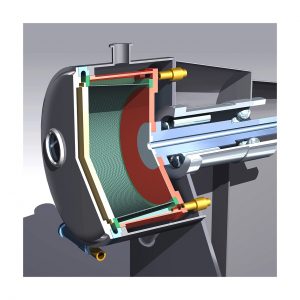 We previously discussed industrial centrifuge basics and wanted to continue by discussing industrial centrifuge maintenance. Like any other piece of equipment, proper maintenance is essential to keeping your centrifuge running optimally for as long as possible. The effort put into centrifuge maintenance pays for itself as they are large, powerful machines, and they do what they were designed to do exceptionally well. Industrial centrifuges can provide decades of reliable performance with the right maintenance plan.
Minor Industrial Centrifuge Maintenance
Maintenance for centrifuges runs from minor to major, but all tasks are important. A few minor maintenance tasks include but are not limited to:
Top end service – This general term refers to maintaining the top end of your centrifuge by performing a full disassembly of the bowl. Inspections are performed of the centripetal pumps and the disk stack. If needed, the discs are cleaned, checked for cracks, missing caulk, and other defects.
Regasketing – The pistons and other wear parts should be examined for degradation. Have your tech go through the entire centrifuge to look for corrosion signs caused by clean in place chemicals. Remove the full disc stack from the distributor and regasket the bowl with the proper gaskets.
Check CIP – Clean in place chemicals procedures should be designed to ensure the equipment is receiving the proper cleaning that includes correct pre-soak procedures, as well as the correct caustic wash cycle.
Major Industrial Centrifuge Maintenance
Just as with a vehicle, a centrifuge also needs major maintenance. These maintenance tasks are usually scheduled monthly or annually but can vary by model. A few major centrifuge tasks include but are not limited to:
Calibration – After other maintenance tasks, the centrifuge is started up for calibrating. Calibration can be performed by running water through the centrifuge in order to check the discharge amount to ensure it is functioning properly, which includes checking for leaks.
Speed checks and fixes – Centrifuge speeds should be routinely checked if they are in constant use. The check should be performed with a reliable photoelectric or strobe tachometer that meets the standards of the College of American Pathologist inspection guidelines.
Temperature checks – Measured and programmed temperature should be within 2 degrees Celsius in most cases. However, some centrifuges in some applications have different requirements. Refrigerated centrifuge temperature should be checked at least on a monthly basis for most standardized conditions.
Repairs, rebuilds, refurbishes, and reconditioning – Part of proper maintenance is knowing when to salvage components and machines in its entirety. Sometimes a repair is needed, where in other cases a refurbish is preferable. Rebuilds and reconditioning of parts can fix other problems. This is why it is important to have a tech who is knowledgeable about your centrifuge and what is required from it in your industry. An experienced tech can advise you of the best path forward.
Houston Dynamic Supply Industrial Centrifuge Maintenance
HDS has over 30 years of experience working with centrifuges in many industrial applications. Our experts provide precision machining and extensive repair, as well as refurbishing and rebuilds. HDS can also perform visual inspection, non-destructive testing, disassembly, and more. Contact us today to learn more.