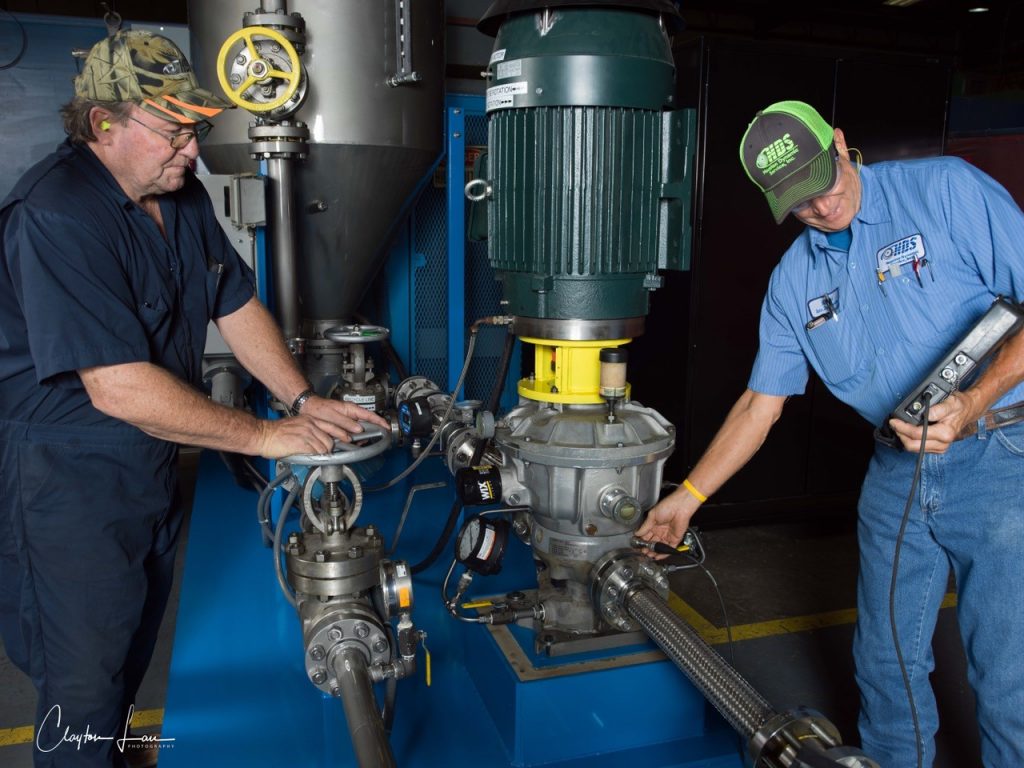 HDS has over 40 years of experience in all types of rotating equipment repairs, including Sundyne pumps. In fact, repairing Sundyne pumps is a large portion of their buisness. As more and more Syndyne pumps came into the shop, General Manager Luke Lau said they encountered many customers who didn't have the technical expertise to trouble shoot common problems encountered with Sundynes.
Sundynes are typically repaired by the OEM or their exclusive distributors, so not many independent repair shops have significant experience with them. Lau realized there was a gap in cost effective repair options available to Sundyne users. If a Sundyne pump required repair or replacement parts, customers had little choice but to go to the OEM or their exclusive distributors. This market created a demand resulting in long lead times and higher costs.
Says Lau, "We realized that if we could put Sundynes on a test loop, we could determine the root cause of the issues we kept seeing." With that realization, HDS decided to build their own Hydraulic Test Stand. Not sparing any expense, the stand is the result of creative engineering and a commitment to the customer. Lau says they went through a lot of trial and error before they were satisfied with the result – and they continue to expand it and make changes that allow a wider range of testing parameters. Currently, the test stand can accommodate pumps up to 200 HP. HDS has also invested heavily in surplus Sundyne pumps and parts from all over the country, allowing them to further expedite repairs by eliminating the need to order parts from other sources.
Now, when a customer is looking for a solution to a Syndyne problem, they can take the pump to HDS where similar operating conditions can be duplicated. Says Lau, "The customers who have seen the test stand are very impressed. From an engineering standpoint, it's something most only dream of. You just don't get the chance to change one simple aspect of a pump's operation in the real world."
Seal failure is one of the most common Sundyne problems, partially due to the extreme high speeds of the pump.  A lot of the testing to this point has been associated with seal performance. Lau says they will be releasing the results of various tests as they become available, and hopes the data will give Sundyne users insight into some of the most common issues.
Says Lau, "we understand the frustration and lost revenue our customers experience when their pump is pulled out of service for months. That won't happen when they team with HDS for their repair needs. In addition to emergency repairs, Lau suggests sending a suspect Sundyne pump to HDS for a complete analysis and overhaul. "Our team will make recommendations to achieve optimal pump performance, efficiency, and prolong the life of the equipment – and it will be done economically and quickly. We don't believe in expedite charges, we believe in getting our customers' equipment back in operation in record time."
Contact HDS for all your rotating equipment repairs and replacement parts. They have the skills and experience to provide optimum solutions with short lead times. HDS is located in Houston, but takes on repair projects, including Sundynes, from all over North and South America. Why replace when you can repair at half the cost?