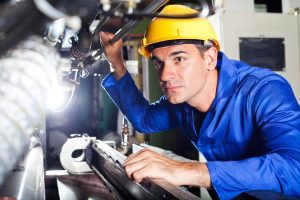 We've previously discussed the benefits of developing an asset management strategy and thought we would continue in that frame of thought.
FACT: A large number of equipment failures have nothing to do with the amount of time in service. FACT: Most equipment failures can be predicted with the proper maintenance strategy. Enter Condition Based Maintenance, which is a strategy to help you plan for repairs ahead of time. We'll show you how below.
Basics of Condition Based Maintenance
Imagine there are four stages that every piece of equipment goes through before it fails:
First stage – Machine operates smoothly as intended to designated parameters.
Second stage – Machine begins to show signs of wear with a detectable change in its performance.
Third stage – Machine shows signs of stress with impending failure.
Fourth stage – Complete or partial failure of machine. It doesn't perform to specifications or not at all.
In order to avoid the fourth stage and even the third stage, it is recommended to perform constant inspections, even if the machine is performing well. These inspections will not only identify issues before they occur but can even predict the time of failure in some cases.
Payback Technologies and Condition Based Maintenance Strategies
Payback technologies are used by reliability engineers to obtain an accurate assessment of the equipment. It is usually broken in to three classifications: vibration analysis, analysis of oil/lubricant, and infrared thermography.
Problems detected by vibration analysis:
Coupling lockup or failure.
Bearing-failure misalignment in the fan, motor, or pump.
Imbalance in the fan or motor.
Resonances including sheave, belt frequency, and pulleys.
Electrical and lubrication issues.
Issues in the structure, gears, and belts.
Problems detected by analysis of oil/lubricant:
Presence of foreign fluids such as water.
Destructive surface contaminants
Presence of machine wear materials including the amount, the type, and their morphology.
The overall chemical and physical state of the oil/lubricant.
Infrared thermography gives you a visual overview of a number of critical components including but not limited to bearings, motors, couplings, sheaves, belts, heat exchangers, steam traps, and electrical components.
Your engineers will be able to develop a strategy based on all of this data. They can also generate what is called a bomb report, a summary on your equipment that outlines data on:
Asset location.
Date and time of confirmed issue.
Details on the asset's issue.
Outlined steps to deal with the issue including time frame and budget.
Ideas for predictive and preventive technologies to diagnose issues.
All reliability report data to support the find.
Names of third-party contractors who can assist with the issues.
The goal of a condition based maintenance strategy should be to improve performance, decrease failures, and increase the amount of uptime.
Houston Dynamic Supply Component Maintenance & Repairs
HDS is an experienced equipment maintenance and repair shop based in Houston that can proactively diagnose your rotating equipment assets and repair/upgrade in order to extend the life of your equipment. Call us today to discuss your equipment maintenance needs!