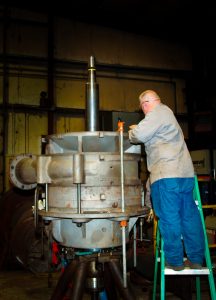 Dating back to 1980, when the original Houston Dynamic Service (HDS) was acquired by the Allis Chalmers Group and then eventually became the Southwest regional service center for Allis Chalmers rotating equipment, we have specialized in the repair and serviceing of the CENTRI-STAK compressor line.
The CENTRI-STAK compressors are a high speed, high volume, high pressure unit and many units are used in power plants as soot blowers.
As a division of Allis Chalmers from 1980 – 2001, HDS technicians were factory trained and proficient in all phases of the CENTRI-STAK compressor repairs. Over the years those skills have been passed down to the current generation of HDS technicians.  HDS also has the capability and experience to manufacture most of the replacement components.
CENTRI-STAK units consist of a drive motor driving a low speed gear box with 1750 RPM input and 8800 output RPM.  The low-pressure gear box drives the low-pressure compressor at 8800 RPM, the low-pressure compressor turns the input of the high-speed gear box at 8800 RPM, and the output shaft of the high speed gear box turns the high speed compressor at 14,900 RPM.
These machines have multiple inlets and discharges in each machine. This allows the end user to remove multiple pressures from different stages en route to the final discharge pressure.
Maintenance of these machines require multiple precision made fixtures and adapters. HDS has a variety of these fixtures for all sizes of the compressors. HDS assembles these machines with state of the art tilt pad and ball and socket bearings.  Each repair consist of an in depth service report including all mechanical and dimensional reports, NDT and balancing reports, complete assembly data etc.
See photos that show various stages of a recent CENTRI-STAK compressor repair project completed in our shop.